Steve McCadams "Casting for a Cure"
Kids Fishing Rodeo
14th Annual Event Puts Big Smiles On Small Faces
By Steve McCadams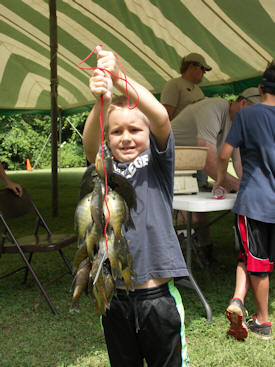 Calling all youngsters who want to catch fish and win prizes at the same time!
The 14th Annual Steve McCadams "Casting For A Cure" Kids Fishing Rodeo returns to Carroll Lake on Saturday, June 8th for a fun filled morning where even little fish bring on big smiles.
Girls and boys ages 15 and under are invited to participate in the FREE event which will benefit the American Cancer Society. Each year McCadams teams up with the Tennessee Wildlife Resources Agency and the big event is fast approaching.
More than 3,900 kids from five states have been introduced to the great sport of fishing since the rodeo's conception.
Special plaques and bicycles will be awarded to kids catching the most and biggest fish in four separate age brackets. Age brackets will be 5 and under, 6-9, 11-12, and 13-15 years of age.
"Returning to my hometown and hosting this rodeo is my favorite fishing day each year," said McCadams, nationally known outdoorsman who lends his name to the event. "Thanks to the help of a TWRA, lots of volunteers and donations, the festivity will build some self-esteem in these future fishermen as they fight fish and cancer at the same time."
"With the help of donors who open their hearts and pocketbooks each year we send each youngster home with a prize and fond memory. I know we've made a positive impression on these kids over the years and in so doing we helped fight cancer at the same time," continued McCadams, who grew up fishing Carroll Lake and participated in rodeos there in days gone by.
Participants are asked to arrive early and check-in at the registration tent where each contestant will receive a bag of goodies. Onsite registration will be from 7-9 a.m. with the actual competition taking place from 9-11 a.m. except for the young age bracket of 5 and under who will just fish for one hour and weigh in at 10 AM.
Loaner rods will be available courtesy of TWRA so every kid will have a chance to fish. However, kids are encouraged to bring their own bait and tackle. Bait and some terminal tackle will be available for sale onsite. Concessions will be available courtesy of McKenzie Relay For Life teams.
"It's a great opportunity for kids to learn about the great sport of fishing while sharing some time with their family and friends," said McCadams, himself a cancer survivor. "I wanted to do something to help fight this terrible disease that affects so many people. It's especially sad to see young kids stricken with cancer but with events like these we can give them hope as we work together to find a cure."
The event will coincide with National Fishing Week across America. And, June 8th is Free Fishing Day in Tennessee.
Carroll Lake is located one mile east of McKenzie, TN and five miles west of Huntingdon, on U.S. Highway 22. For additional information log on to www.stevemccadams.com or call 731-642-0360.
To support the event or perhaps honor someone special send your tax deductible donation to: Steve McCadams "Casting For A Cure" Kids Fishing Rodeo, 655 Anderson Drive, Paris, TN 38242.
---
Childhood Cancer Facts
About 9,510 American children under age 15 will be diagnosed with cancer in 2004

79% of these children will survive 5 years or more because of significant advances in therapy

Cancer is still the leading cause of death from disease in children younger than 15 years of age

Death rates from childhood cancer have declined since 1975 by 49%
Most common cancers of children:
Leukemia (including ALL)

Brain & other nervous system tumors

Lymphomas (lymph node cancers)

Bone cancers

Soft tissue sarcomas (such as Rhabdomyosarcoma)

Kidney cancers (such as Wilms tumor)

Eye cancers (such as Retinoblastoma)

Adrenal gland cancer
More Facts:
Causes of most childhood cancers is not known

Now, at St. Jude's Children's Hospitals, grants from the American Cancer Society are totaling $1,254,000.00

American Cancer Society was involved in cancer research breakthrough of determining the cure for childhood leukemia

Due to advancements in treatment, survival rates for children with acute lymphocytic leukemia have increased from 53% to 85% since the mid 1970's to the late 1990's

Camp Horizon, sponsored by the American Cancer Society, is Tennessee's special summer camp for children ages 6 – 17 who have or have had cancer
We thank you for supporting the American Cancer Society and Steve McCadams for the 8th annual "Casting For A Cure" Kids Fishing Rodeo. I look forward to seeing and meeting you at Carroll Lake on June 7th!
Sincerely,
Christy Futrell, Development Representative American Cancer Society